20 Powerful AI Tools Every Online Marketer Needs to Know About
It's 2023… and if you're in the online marketing space, you absolutely cannot deny that Artificial Intelligence (AI) tools are all the rage these days.
With ChatGPT taking the scene by storm, and gaining over 100 million followers in record time, you can bet your last dollar that AI tools are here to stay and only going to get better.
• Are you fighting a losing battle?
Despite the popularity of these AI solutions, there are many online marketers who aren't too happy about them for a variety of reasons – ranging from dull, insipid generated content to the fact that these tools are putting many people out of a job.
While these are good reasons to make the case against AI software, the truth of the matter is that you'll gain more by leveraging them intelligently instead of trying to buck the trend. I'm finding that being a part of an ongoing program, where experts I know well and have learned from over the years is the best way for me to be on the cutting edge of artificial intelligence, AI tools, and everything related to this topic.
NOTE: The ONLY training I am recommending on this topic of AI (Artificial Intelligence) for marketers, content creators, and others online is from people I know and trust. Denise Wakeman and Andy O'Bryan have created the AI Success Club and I am excited to be learning everything there is to know on this topic, as well as how to utilize it for for business from these two thought leaders.

• How to use these AI tools
The best way to get the most out of these AI tools will be to view them as a means to an end… and not an end in itself.
AI tools are there to help you do more in less time.
For example, if you're using an AI app like Ocoya, you'll be able to manage all your social media accounts from one dashboard, and use it to generate social media content 10 times faster.
You won't need to log into each of your social media apps (one at a time), and post. Speed is everything when you're running an online business – and this tool will manage your social media marketing in record time. If you're not using it, you'll be shortchanging yourself.
Your competitors will be using them to dominate the niche. Not leveraging these tools may mean losing market share to your competition while you spend more time only to do less.
AI tools will make many online marketing tasks much easier and save you time in the process. In many instances, these tools just might save you money too.
You'll not need to outsource certain tasks to freelancers if AI software can automate the process. This will increase your bottom line.
• Before looking at the list of tools below…
It's important to understand that you don't need all these tools in your business. Many of the ones mentioned below are alternatives to other tools. For example, if you're using Chatfuel, you won't need Manychat.
But we've still listed both to give you a choice. Some marketers may prefer the first option, while others may choose to go with the second. Ultimately, it's about picking a tool that's right for you.
Another point to note is this – if there's demand for the feature a tool offers, there will be competitors springing up left, right and center offering similar tools that do the same job.
For example, there's a strong demand for AI tools which create sales copy. A quick search on Google will turn up several AI tools such as Jasper, CopyAI, Writesonic, or Anyword. Anyword is amazing for writing blog posts and sales copy (Get Started for Free, Consider a Paid Account, and then reach out to me if you'd like to share it through your own affiliate link) and so on.
You're spoiled for choice. Once again, all that really matters is choosing a tool that you're comfortable using – and making sure that you practice using it so that you're proficient at 'deploying' it. You can only get the most out of the tool if you can wield it well.
With that said, let's look at 20 of the most powerful AI tools in the market right now… And I've included a clickable link in bold for each one, and it will open in a new window so you won't lose your place within this post!
1. ChatGPT – I had to put this right at the top of the list because ChatGPT is the talk of the town right now. You can use it for a variety of writing needs such as:
• Creating blog post titles
• Generating legal pages
• Writing articles, books, white papers, and more
• Generating persuasive sales copy
This is just the tip of the iceberg. You could use ChatGPT for hundreds of other types of content.
However, because ChatGPT is so 'broad' and powerful, many beginners are overwhelmed by it. This is especially true for creating sales copy.
You need to know the different components and structure when it comes to writing good copy. While ChatGPT can write great copy for you, knowing what prompts to use can be difficult.
For situations like these, using AI tools which focus more on creating copy step-by-step will be easier to use.
Try ChatGPT here
2. Jasper.ai
As mentioned in the previous point, having a tool that guides you along the way is more helpful when you're creating sales copy.
Jasper is a fantastic conversational AI platform that will help you create content and sales copy just like what ChatGPT does… but it'll simplify the process by guiding you to feed it the information it needs, unlike ChatGPT which expects you to know what you want.
Try Jasper Here
3. CopyAI
Another AI tool that can generate sales copy for emails, landing pages, sales pages and much more.
Try CopyAI Here
4. Pictory
Ever since Vidnami was bought over by GoDaddy and 'disappeared', thousands of marketers were left high and dry. They didn't have a video creation tool that could match Vidnami's features…
Until Pictory decided to take up the slack and created a platform that allows marketers to create excellent video content in minutes.
With a library of high-quality, royalty-free stock photos and videos, you can create customizable visuals to use in your YouTube videos and so on. The pricing is affordable and the user interface is easy to navigate.
If you're a video content creator, you need to take a look at Pictory.
Try Pictory Here
5. InVideo
This cloud-based video editing software is like Pictory… though we found the latter to be slightly better. Once again, you may wish to test both out before deciding which one you wish to go with.
InVideo has 5000 pre-built templates, customizable elements, and a drag-and-drop feature which makes it a breeze to use.
Try InVideo Here
6. D-ID
This interesting AI tool will create customized videos with human avatars. It can combine audios and videos with text to create very realistic videos for you.
This is ideal for marketers who don't wish to show their faces on screen because they're camera-shy or for privacy purposes.
Try D-ID Here
7. BHuman
This is a very interesting tool that allows you to make many personalized videos out of one single video. For example, if you have a list of 10 customers who purchased your coaching program, all you'll need to do is record one video thanking a customer.
Then all you need to do is use BHuman to personalize the video for the remaining 9 customers. The AI tool will replace the name mentioned in the video and auto-generate a new video for each of the other 9 names provided. That's amazing! You can use this tool for onboarding tasks, affiliate recruitment, outreach and much more!
Try BHuman Here
8. Otter.ai
Need a video or audio transcribed without having to do it manually or paying a freelancer to do it for you? Then you need Otter. It'll automatically transcribe the audio… and it supports multiple languages too.
What's cool about Otter is that if you're transcribing a podcast, this AI tool can detect the voices of the different speakers and transcribe the content accordingly… and neatly. It's one of the best transcription AI tools right now.
Try Otter.ai Here
9. Overdub
This text-to-speech software created by Descript is brilliant. It's similar to BHuman… but it does a bit more.
Overdub can recognize your voice when you make a video. Once you create a video, you can get Overdub to replace the words you say in the video. It'll create a very convincing version of you saying the new text (using your voice).
Gone are the days when we had to endure robotic voiceovers. With Overdub, you can create videos that can be altered for a variety of purposes. To understand the beauty of this tool, you'll need to visit the official site and see it in action.
Try Overdub Here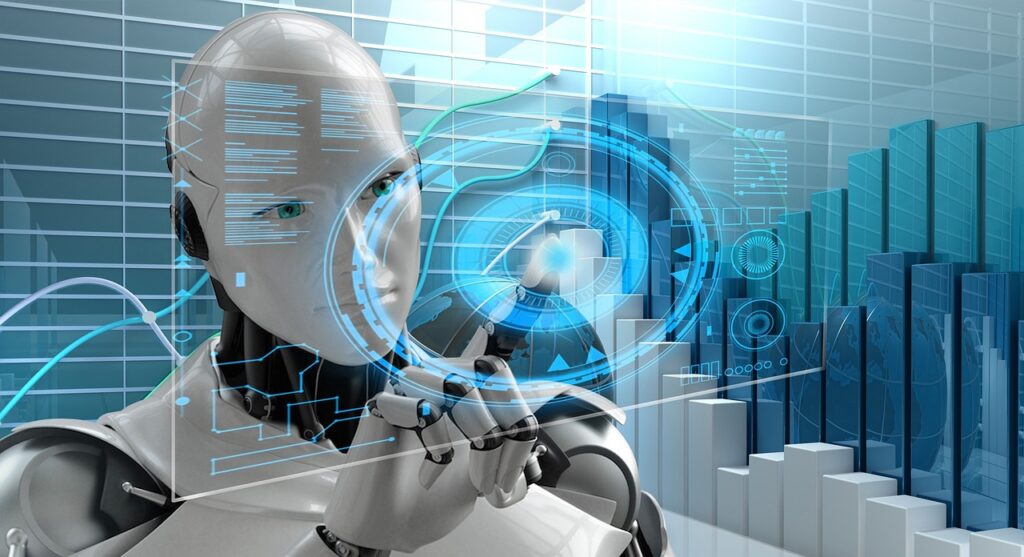 10. AdCreative
Like its name suggests, AdCreative will generate a range of ad copy for you such as – display ads, search ads, social media ads and more.
Because it has a vast library of past ads that it analyzes, it's able to create eye-catching ad images that work in the real world.
It'll analyze keywords to create targeted ads and even A/B split test them to get the highest converting ads for you. Most marketers struggle to create ads.
Instead of using an expensive media buying agency, you should give AdCreative a spin first.
Try AdCreative Here
11. Ocoya
Earlier on, we mentioned this tool… and it's a must-have if you're doing social media marketing. Imagine if you had accounts on Instagram, Facebook, Twitter, LinkedIn and so on – and you needed to post content on each – it would take you at least an hour or two to log into each account individually and do it.
With Ocoya, you can do it all from one dashboard. The tool also has a multitude of features ranging from scheduling content to generating captions and more. It's a powerful tool for social media traffic generation.
Try Ocoya Here
12. Durable
Want to build a website in minutes? Durable will help you do that. No longer do you need to tinker with code or spend hours figuring out page builders.
Fire up Durable and this AI website generator will create an entire website for you (with images and copy) that looks attractive, credible and professional. From there, it's just a matter of tweaking the content and making the site yours.
Try Durable Here
13. Chatfuel
This is one of the most popular chatbots that's usually used with Facebook messenger. You'll be able to answer frequently asked questions that you may receive from your followers/customers.
Just add a few pre-made answers (to questions that you receive often) into your Chatfuel account and it will automate the process 24/7. By answering questions quickly, you'll have better engagement with your audience.
If there are any questions that require you to personally reply them, you can always answer them during your working hours. Chatfuel is a very useful app for marketers who use Facebook for traffic generation.
Try Chatfuel Here
14. Manychat – This app is very similar to Chatfuel. Take a look at it before signing up with any chatbot platform.
Try Manychat Here
15. Analisa
Analisa is a very 'focused' AI tool that gives you Instagram and TikTok analytics. It analyzes your profile, hashtags and follower demographics so you have all the important information you'll need to create targeted videos.
These are some of its features:
• Campaign Reporting
• Follower Demographics
• Follower Authenticity
• Content Engagement
• Historical Data
• Tagged Relationships
• Influencer Mapping
• Competitive Analysis
It's an invaluable tool that's best used if you're doing marketing on TikTok and Instagram.
Try Analisa Here
16. Profile Picture Maker – This little AI tool is no match for the other formidable ones in terms of features and uses. However, what Profile Picture Maker does… it does very well.
Need a professional-looking circular profile picture for your sales page but all you have is a square photo?
It's difficult to edit such an image on your own if you don't have graphic design skills. The good news – Profile Picture Maker will do it for you in seconds.
It can also be used to remove the background from your photo.
Try Profile Picture Maker Here
17. Beautiful – If you're planning on creating tutorial videos for your YouTube channel… or doing a webinar presentation… or a coaching class… and you want attractive slides for your presentation… You should definitely check out Beautiful.ai
It has many pre-built layouts which are customizable. With this tool, you can easily whip up professional-quality presentations in a fraction of the time it usually takes you. Beautiful.ai also has a collaboration feature that will allow you and your team to work on a presentation together.
Try Beautiful Here
18. Predis
Predis is a social media tool that's versatile and was made to grow your social media following. By letting you automate most of the repetitive tasks, you can focus on working on your business, instead of slogging away in it.
It's similar to Ocoya… and you'll be able to use it for TikTok reels, social media ads, scheduling posts, ecommerce product videos and much more.
Try Predis Here
19. Brandwork – This tool uses AI to design logos, images, icons, etc. What's truly interesting is that you'll fill out a questionnaire, and based on your answers, the AI tool will generate logos with variations and other icons for your business.
These brand assets will be delivered to you in 24-48 hours depending on the package you choose.
If you compared Brandwork with hiring a freelance graphic designer on a site like Fiverr, Brandwork is much more cost-effective because it gives you more variations.
If you're looking to brand your web properties, give Brandwork a look-see.
Try Brandwork Here
20. Keyword Insights – This AI keyword tool is far more affordable than Ahrefs or SEMrush. While the data it provides is not as comprehensive as the other two tools, Keyword Insights has very useful features that will help you. Here's what you can do with it:
• Generate hundreds of related keywords
• Group your keywords into tight, focused clusters
• Discover the search intent for these keywords
• Create content briefs based on these keywords
The tool is easy to use… and you could offer keyword research as a service on Fiverr and leverage Keyword Insights to do the heavy lifting for you. Keyword Insights will pay for itself, if you're a freelancer.
If you're planning on doing keyword research, this tool is immensely effective and pragmatic.
Try Keyword Insights Here
In conclusion…
When choosing an AI tool, you'll want to pick one that has features which will assist you in your business. The goal is to speed up the processes in your 'system' without sacrificing quality.
Many of the paid AI tools have free trials for you to test out the tools. Make sure you use these opportunities to get a feel for the tool. Don't be too quick to sign up before giving the software a test drive.
Besides the tools mentioned above, there are many other AI solutions such as:
• Synthesia for video generation
• MissingLettr for social media marketing
• PhantomBuster for lead generation
• Grammarly for content editing
• Phrasee for marketing messages
There are so many options for you to choose from. So exercise due diligence and pick one that delivers on its promises. AI tools can be massive time and cost savers if you leverage them well.
They'll increase your efficiency, productivity and effectiveness, thereby allowing them to stay competitive in today's fast-paced digital landscape. Having more tools and strategies for researching your writing and your products and courses will always be beneficial and profitable. Start using them today!
I'm bestselling USA Today and Wall Street Journal author, publisher, and entrepreneur Connie Ragen Green and my goal is to connect with you if you have more than just a passing interest in getting started with an online business. I most recently released Really Simple SEO Tips and Keywords for Beginners and this is an excellent place to begin. Please take a look while it's still at its introductory pricing.