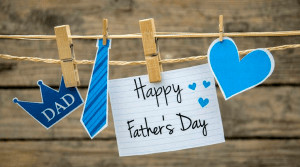 Happy Father's Day! I'm sharing a story with you from my teaching days…
It was the first day of school and my new 5th graders were excited and nervous and talkative all at once. By the end of the week it was obvious that Freddy was going to be my challenging student that school year.
He wouldn't sit still, did not complete work in class, and said he couldn't do the homework I was assigning to everyone. On Friday I sent him home with a note to give to his mother. I wanted to see her on Monday morning. Freddy told me she had to leave very early to get to work. I agreed to meet with her in the parking lot at 6. I was the first teacher at school each morning and the custodian opened the gate for me by 6:15.
I waited until 6:30 on Monday morning and Mom never showed up so I went into the classroom to set up for the day. A few minutes later Freddy appeared at the door. He apologized and told me he couldn't explain why she hadn't come. I said little and he went out on the yard until the bell rang.
After school I had work to finish and when I finally left around five I drove to Freddy's apartment building. I was used to visiting my students and looked forward to meeting everyone. I walked up the stairs and knocked on the door of apartment 12. I knocked again, more loudly this time and within a few minutes Freddy appeared at the door. He quickly turned his back to me and that's when I saw that he was holding an infant wrapped in a blanket. Then a toddler appeared and asked him for a drink of water.
Freddy acted out in my class because he had a serious role at home as caretaker to two younger brothers. While I visited with him that afternoon he prepared a bottle, changed a diaper, and fixed a sandwich for the three year old. Of course he couldn't do homework for me.
Then he told me his story. Freddy and his brothers all had different fathers. His mother took two buses to Los Angeles each morning to work as a housekeeper. Freddy took care of the little brothers until a neighbor came over so he could go to school. He had to come home right away because she had a job that started at four each day.
I told Freddy that he was doing a wonderful thing by helping his mother in this way. And I added that he would be a wonderful father some day because of all he knew and had experienced.
He was silent and looked down at the floor for a few moments. Then he looked up at me and with tears streaming down his cheeks he said words I thought I would never hear from a child.
"I don't ever want to be a Dad. And I don't care if I ever meet my Dad."
"But why, Freddy?" I pleaded. I needed to understand why he felt this way.
"Because Dads don't stay."
My heart sank. Dads don't stay. Those three tiny words broke my heart. I wanted to hug Freddy close to my heart and tell him everything was going to be okay. I wanted to promise him his Dad would return some day and share the reason he had been away. I longed to reassure him that some day he would become the best Dad ever. But I remained motionless and silent.
Our eyes locked for a few moments before he looked out the window and down into the courtyard where children were playing. He pulled the curtain to the side to block the view. Then he wiped his face with the back of his sleeve and went over to pick up the baby. The toddler was content in front of the television and Freddy joined him on the floor, cradling the baby while he took the bottle.
I thanked him for letting me visit. I touched the toddler and the baby on the tops of their heads. And as I made my way down the stairs and to my car I understood Freddy a lot more than I had. And I promised myself I would make a difference in his life.
Freddy tested into the gifted program that year and I helped him get accepted at a gifted magnet for Middle School. He would have to get on the bus early and not return until almost four each afternoon. He deserved this and I was doing the job I had been trained to do. Sometimes life throws a tough decision your way.
I'm author, publisher, and entrepreneur Connie Ragen Green and I would love to assist you as you begin or continue your journey as an online entrepreneur. It's a joyous one! My popular and effective training on "How to Sell Yourself and Your Stuff" is an excellent place to begin and would give you and I the opportunity to get to know each other.
Visited 1 times, 1 visit(s) today