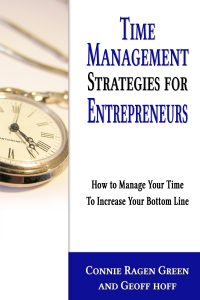 Recently my friend and colleague Leslie Cardinal asked me to write a chapter for her new book, I Hate Being Late. Knowing that I am an expert in the area of time management strategies for entrepreneurs and even have a book on this I co-authored with Geoff Hoff, Leslie wanted me to share some insight on my experiences with her readers.
I thought back to my days as a classroom teacher, when so many of the teachers were perpetually late. It disrupted our entire day, and having to be accountable for thirty or more additional students was not easy for any of us. The students were embarrassed for their teachers, knowing that these adults had more important priorities than being there one hundred percent for their own students. The phrase 'she'll be late for her own funeral' came to mind on more than one occasion.
So, why are so many people late on a regular basis? I believe it is due to a lack of planning and organization on their part in many cases. The idea of respecting time, whether it is your own or that of someone else is a trait and habit worth developing. Even though I have always had the trait to be on time, I continue to have rituals and routines that make this an easy part of my life. When I come home, whether I am in Santa Clarita or Santa Barbara, I have a hook on which to place my keys, and an area for my purse and jacket and another hook for my sunglasses.
When it comes to my business, I manage my time by working from what I refer to as a 'dynamic to-do list'. This means that the list is ongoing, and as every task is completed, delegated, or deemed no longer necessary I cross it off. This is done on a mini (5 by 8 inch) legal pad. When a page is completed I simply tear it off and tuck it in at the back. I never write on the back of the pages and when the pad is used up I save it in a file. This has worked extremely well for me over the years. I have so much time to accomplish what I want to do and never feel rushed.
What are some time management strategies that work for you as an entrepreneur?
(Visited 10 times, 1 visits today)